Stage 1: Time Trial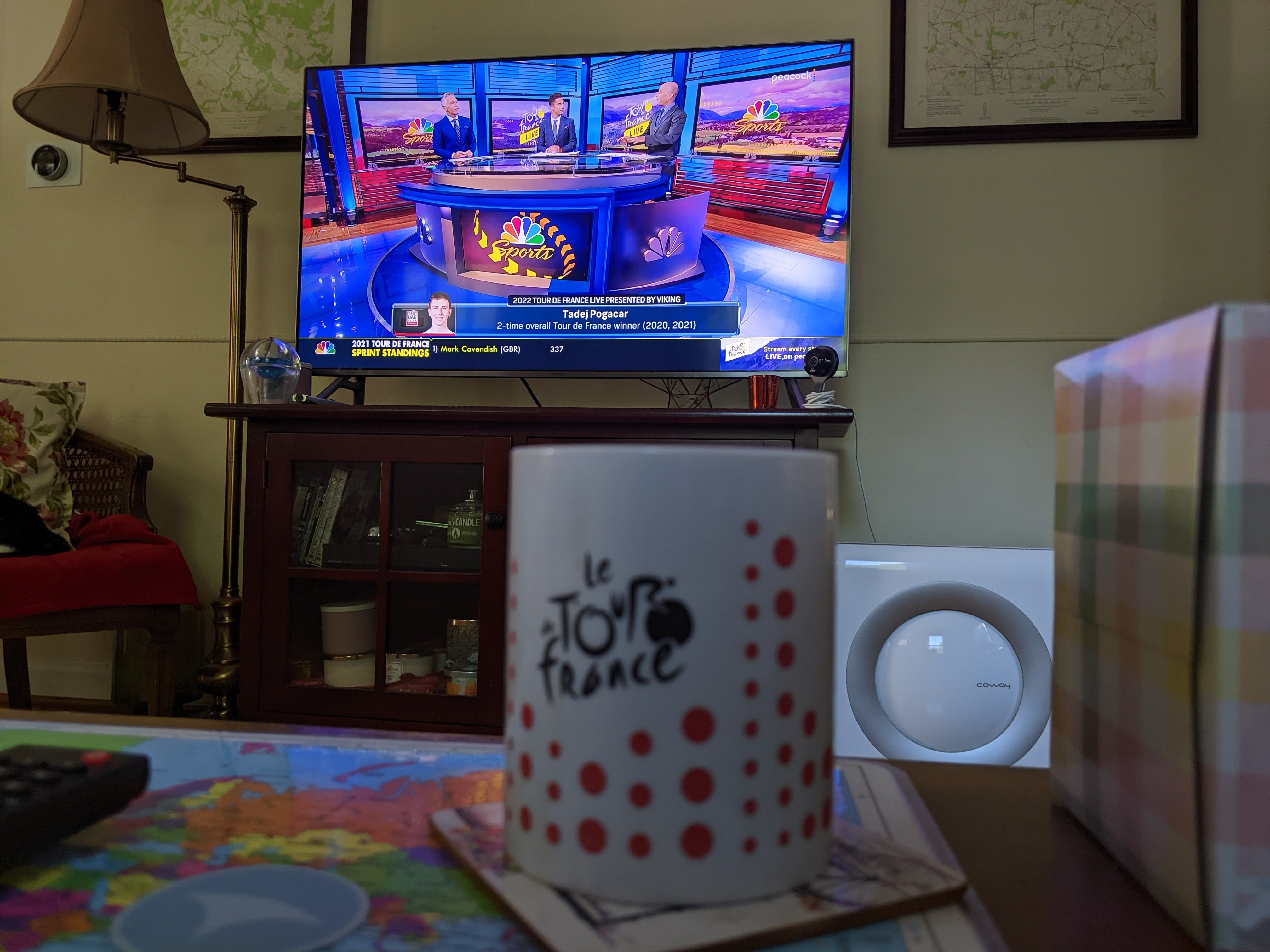 Today is travel day, and The Tour starts off today in Copenhagen Denmark. A fairly short technical 13.2km time trial -- longer than what would be classified as a Prologue (i.e. longer than 6km).  It would be nice to see someone like Mads Petersen end the day in the Yellow Jersey, since he's from Denmark and a former world champion, but likely we'll see Fillipo Ganna wearing the yellow jersey at the end of the day.  It could also land on the shoulders of Wout van Aert or Mattieu van der Poel.  Personally I'd love to see Brandon McNulty eke out a win and have an American in yellow for the first time in a while.
What we get to do today is fret over packing, whether the airplane will get to our airport without delay, hoping we're not late into Brussels for our connector to Geneva.  To add onto that, my wife frets over making sure the house is clean before leaving, so we add stress on top of stress making for a day of waiting, worry, resentment, and doubt.
We packed up last night and have been obsessively freting of what comes next.  The cats have been in general distrust mode; they don't see a kennel, so they're not worried *quite* yet about being stuck in a car for hours.  Little do they know there's going to be a lot of time without us.
Last minute things get finished -- rooms cleaned and doors shut, quick run to the barbers for a haircut... and then zero hour is upon us.  We had originally planned on an airport shuttle, because the bike in its bag is a bulky item to try and fit in a car.  However the CFO had a thought that why couldn't we just take two Ubers?  One for CG and her, and then an Uber XL for me and the bike? 
So I made sure they were on their way before I booked mine, a Honda Pilot.  But the driver was a full 15 minutes away when he picked up the fare, so I had time to go thru things at least for the 6th time today.  Keys... Phone...Wallet...Doors Locked...Windows Locked...Cats fed... What?  They'd eaten thru things already, so they're lucky they've now got enough food until our neighbor or pet sitters come.
When my Uber showed up, he was able to fold down his 3rd row seating which allowed the bike to fit perfectly in its bike bag, and off we went.
Again I have to tell people here in the US that I'm going to ride and watch the Tour de France, not compete or ride *in* it.  While the generic ex-Army Uber driver doesn't know a thing about pro cycling, there's an expectation that anybody can compete in the Tour if they just show up and ride. 
With all the current airline problems in the US (Newark I'm looking at you), we got to flight check-in approximately 3 1/2 hours before our flight takes off... Luckily the lines were light and we were thru security in less than 20 minutes in the door to terminal.  I made the audible to use our complimentary lounge passes and we spent the next hours in the comfort of the United lounge at Gate C7.
I now have automatic coffee maker envy.
Way back when working for Shopify in Ottawa, I got to learn how to make espressos/cappuchinos/flat whites/etc because there were several real espresso makers.  Learned the way to froth milk properly, how to pull a good espresso, but no latte art skills -- no patience. 
However their normal coffee makers were made by Jura.  And they did pretty good coffee with a really nice crema and all.  So when we were renovating our kitchen, I put a little extra into the budget and got a Jura S8 for us.  No more K-Cups or baked last-cup of drip coffee.  It's been glorious. 
Now though, the automatic espresso maker at the United Lounge puts my Jura to shame.  It's quiet, it's quick, and paired with Illy coffee, it's really good.
Leave a comment
Comments will be approved before showing up.