The Day the Smile Died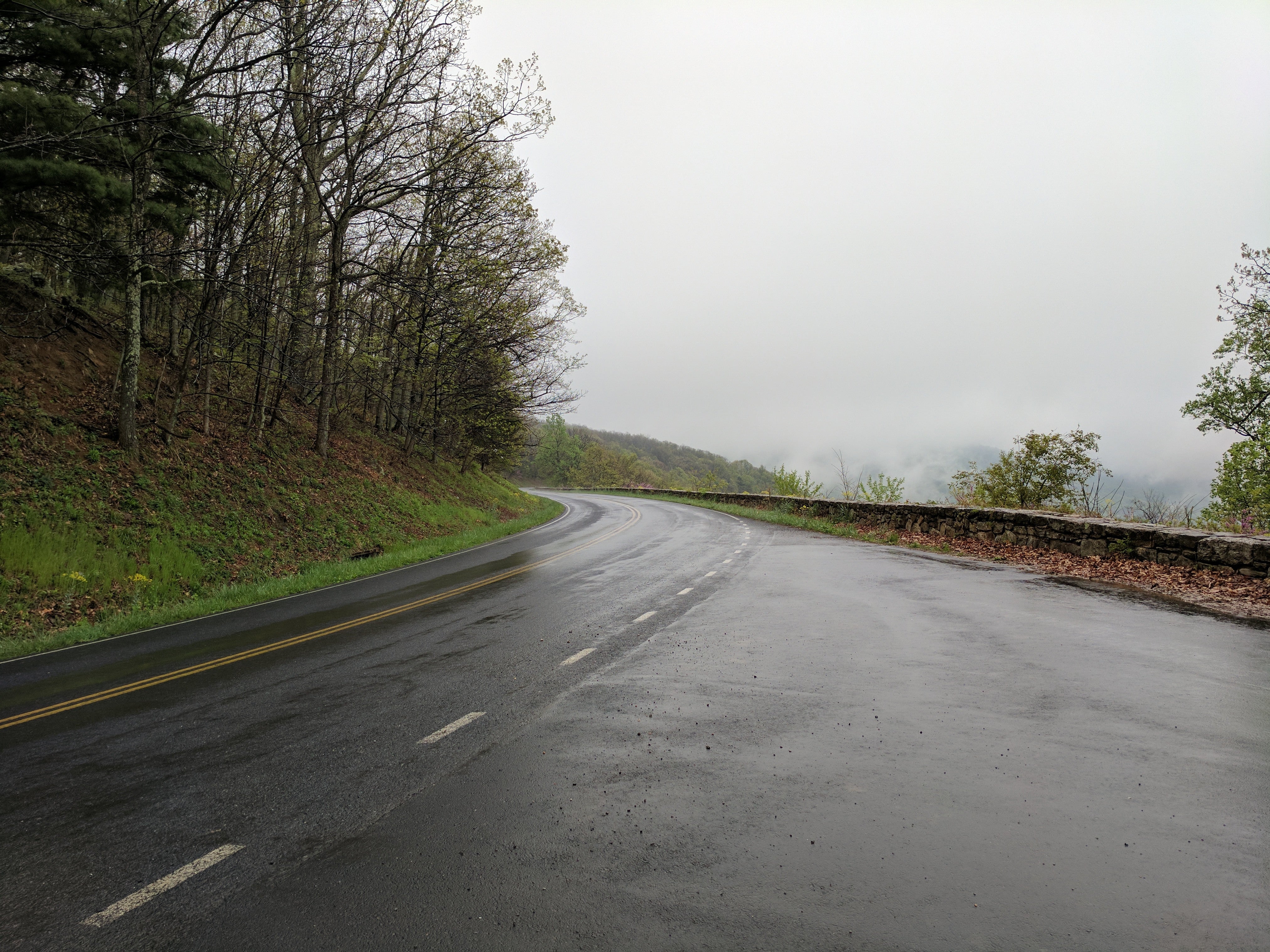 This upcoming Sunday is the first Car-Free day on the northern stretch of Skyline drive here in Virginia.  This may not mean much to most people, but it's a step forward to encouraging more people to ride on a bike.  Not that there would be much difference to my as a rider out there -- I've ridden the entirety during the peak season.  To be honest about Skyline drive, people are not in a hurry.  They're attentive and driving slow, and it's not a big deal with being passed by cars on the ride because of this.  People on Skyline drive are accustomed to driving slow and with care, while those in and outside of cities are in a rush, are not paying attention, and are not in a mindset to care about their fellow humans.
The week leading up to this ride was one I was looking forward to, not that I was going to ride, since all Sunday rides happen after church, and there's no way I'm driving out to Front Royal and dealing with the 4000+ expected riders, but I was anticipating riding the Saturday before (i.e. Today) and making it a hard ride in preparation for my France trip.
The ride was to be a leg-destroying ride: 108 miles, ~12k feet of climbing.  A simple route really -- ride from the Front Royal gate to Big Meadows:
Get some lunch, and then ride back.  Simple enough right?
Early in the week, the weather seemed to favour me; it was going to be cool on Saturday with expected rain on Sunday, however Mother Nature, and Fate, would otherwise conspire against me.
The chance of rain was shifting from Sunday to Saturday night, to Saturday Afternoon, and was looking sketchy when I got up this morning.
Where fate unfortunately stepped in was when I checked my twitter feed and read about the accidental death of pro cyclist Michele Scarponi.
Not that I had any connection to him whatsoever, but he was a smiling face in the peloton, and seemed to be a very likable character in a somewhat charater-less sport.  His last tweet with his boys riding on his back showed his joy for life.
So after reading that this morning, my mind was already not in a good place.  I continued on, even though it was raining here at my home, it might not be in Front Royal.  I packed up the truck, put the bike on the rack, and got on the highway.
I stopped for gas, and then stopped at the Great American Restroom (aka McDonald's) in Front Royal.  It was spitting in bits as I drove west, but it started to come down harder there in Front Royal.  The radar didn't look like it was going to get much harder than a light drizzle, so I drove the 2 miles thru town to the entrance of Skyline Drive.
I proceeded to get the bike off the truck, and kitted up, and then called my wife, whom then proceeded to talk me out of doing what I had said to myself was likely to be the stupidest thing I've done on a bike.  Not that the climbs up Skyline drive were all that difficult - averages of 6-7%, steepest spots being 10-11%, but it was the descents I was worried about.
As she reminded me I had a daughter to come home to, I was reminded of Scarponi's last tweet, and I acceded to her logic.  However, instead of just turning around and coming directly home, I drove up Skyline drive, part of me hoping to find that it wasn't bad up towards the top and I might climb on and get some hills in...except that wasn't the case.
As I got higher on the mountain, it got progressively worse.  At 1400 feet the clouds rolled in, and from 1400-3400 feet on the east side of the ridge it was pea soup thick.
But... at some point in time I caught up with a cyclist.... Who happened to be wearing my same team kit.  And then a minute further up the road was another two riders, one also in my same team kit!  
My teammate Pat: "This is nothing but a shitty ride.  But I have to get 3 hours in today..."
As I drove up to my favourite spot on the first part of the ride, mile marker 21, I realized that I did the right thing in letting myself be talked out of a probably monumental mistake.  It was pouring, and the roads were covered with running water.  
A ride like this today requires not just a desire to train and beat oneself into shape, but also the right mental attitude; every descent from there to RT 211 was slippery and water running in the road.  One slight lapse of concentration and judgement would send you into a world of hurt, with no one around to help.  Literally I saw 5 vehicles on my 32 mile drive, and two of them were the parked cars of my team mates.
Doesn't mean that Skyline Drive isn't a pretty stretch of road, inclement weather included:
But mentally it would have chewed me up physically and set me back had I ridden.  
Rest in Peace Michele.  I never knew you, but I'm glad you were a Pro.  May your friends and family also find peace, I know that will be difficult.
Leave a comment
Comments will be approved before showing up.